Sacrifice and service.  Our sons and daughters in uniform head off to unknown destinations and unknown destinies.
Support.  They know just one thing: that we will do everything to protect and heal them if they suffer an injury.
Lives Restored shines a spotlight on the major injuries suffered by these brave men and women — burns, loss of sight, head and brain trauma, muscle repair — and allows donors to apply their contribution to the area they choose.
MTEC funds active, ongoing, scientifically validated and clinically relevant projects in each of these areas.  Our new medical technologies improve the lives of our warriors and all the people they protect.
But we need your help to accelerate them toward human use.  Make a contribution to Lives Restored today and designate your dollars toward one of these areas or the MTEC general fund.
Together, we can honor those who sacrifice in our service. Your support will ensure all lives of our injured military men and women are restored.
Restoring Vision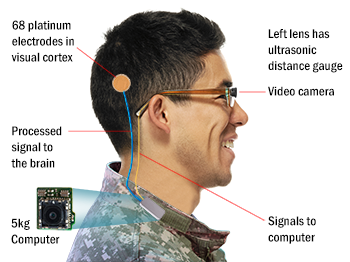 Restoring Minds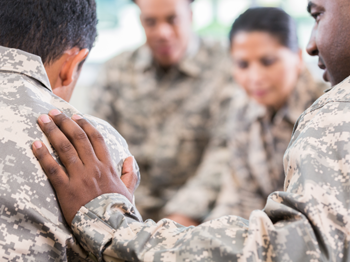 Restoring Burns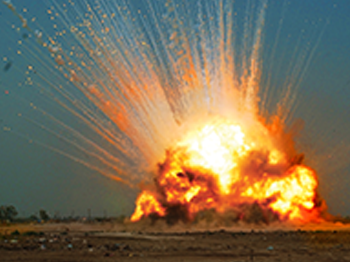 Restoring Muscle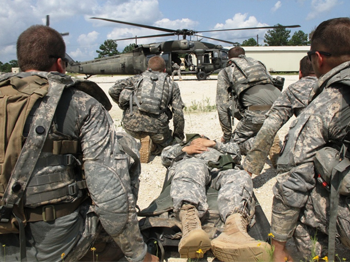 Vision Restored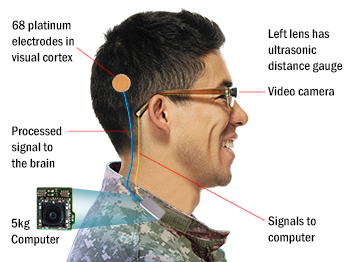 Objective:  Provide solutions to restore eyesight to warfighters suffering from trauma related to the eye.
Clinical Need: Through penetrating or blast wounds, our military suffers the most devastating of wounds to their eyes that can leave them with partial or total loss of sight. Alternatives need to be developed.
12-15% of all battlefield wounds are related to the eye (>15% of these result in removal of the eye)
In the U.S. alone, 2.9 million people are visually impaired and 1.3 million are blind, of which over 50,000 are veterans.
The Solution:  When the eye is destroyed, a visual prosthesis may be required as a means to capture and transmit sensory data to the brain. Early work has shown that stimulation of the brain can restore a level of vision to human patients. As the illustration to the right depicts, an image can be captured through camera-mounted glasses and forwarded to a computational device that translates stimuli to the brain through a microelectrode array implanted in the visual cortex. This solution provides basic sight function, such as the ability to navigate, identify faces and objects, and read large print.
The Restoring Vision fund, in partnership with others, aims to support work that advances the development of a visual prosthesis to restore lost vision as a result of eye injury.  This fund would specifically be awarded to support the testing of electrode immune response acceptance, increased usage life, and correct placement. We hope that this work will help advance vision restoration solutions to reduce the impact that vision loss has on an individual's quality of life.
The Ask:  Vision Restored is a campaign to raise $1,000,000 to advance the development of a visual prosthesis that stimulates the restoration of vision and provides a means for patients to conduct life supporting tasks.
Mental Health Restored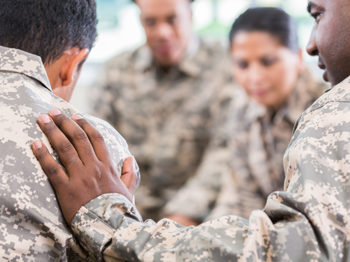 Objective:  Provide therapeutic solutions to warfighters suffering from brain injuries and mental health disorders.
Clinical Need:  The vastness of destruction entailed in warfare places an enormous stress on the mental fortitude of our warriors.  Whether through direct trauma to the head or from the relentless strain of peril and vision of devastation, our warriors incur heightened rates of mental debilitations.
625,000 veterans filed for physical and mental disabilities claims.
Over 8,000 severe brain injuries have been recorded during Iraq and Afghanistan warfare.
Post-traumatic stress disorder (PTSD) affects about 7.7 million American adults in a given year and is the fifth most prevalent mental disorder in the U.S. with higher rates observed in veterans.
Solution:  Treating TBI and PTSD remains one of the top priorities for the Department of Defense (DoD). Their goal is to treat TBI as close to point of injury as possible, to reduce primary and secondary brain damage and the onset of PTSD. The current standard of care for TBI is based on management of symptoms and there remains no U.S. Food and Drug Administration (FDA) approved drug therapy for the treatment of TBI. We are seeking to develop a therapy that will reduce or remove ailments, better incorporate these warriors into our society, decrease lost duty time, and mitigate the life-long disability and rehabilitation costs associated with these post-injury conditions.
The Mental Health Restored fund will specifically fund clinical candidates within our two established clinical trial networks poised to bring products forward to human studies for the prevention, diagnosis, management, and treatment of TBI and PTSD.  These pre-screened and evaluated candidates will bring immediate solutions to patients within the next year.
The Ask:  Mental Health Restored is a campaign to raise $2,000,000 to support clinical trials that test new therapies to treat TBI and PTSD.
Burns Restored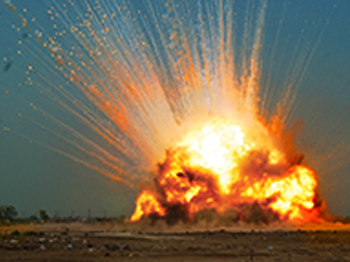 Objective:  Greatly improve the health and recovery outcomes for warfighters suffering from burn trauma.
Clinical Need:  Our warfighters are at risk of burns, from gasoline fires to improvised explosive device (IED) explosions.  Severe burns are difficult to treat and often lead to extreme pain, debilitation, and potentially death as infections incur due to exposed surfaces.
20% of warfighters with burns have burn injuries that affect greater than 20% of the total body surface area. The unavailability of suitable treatments results in death, and at best, it leaves numerous veterans with severe scars and contracture.
40,000 Americans require hospitalization each year from burn trauma, of which 8% result in death.
Vision:  Greatly improve the health and recovery outcomes for warfighters suffering from burn trauma.
Solution:  The Burns Restored fund will support work that aims to advance the development of a skin substitute using stem cells to generate "sheets" of new skin. The use of skin substitutes will promote wound closure resulting in a reduced incidence of infection with the additional benefit of reducing scarring. The proposed skin substitute product could be stored and applied to burn-injured warfighters on the battlefield and in hospitals at the time need. This fund would specifically be awarded in support of the following work:
Assess the human skin cell immunological responses to the skin substitute.
Evaluate the performance of the skin substitute in a burn injury animal model.
Develop protocols for clinical trials within major burn centers for direct human benefit.
The Ask:  Burns Restored  is a campaign to raise $300,000 to advance the development of a skin substitute that can cover and close wounded areas which will reduce pain, improve quality of life, and decrease mortality.
Muscles Restored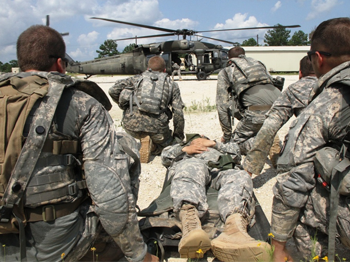 Objective:  Provide viable solutions to warfighters suffering from muscle loss resulting from traumatic injury.
Clinical Need: Trauma often entails the destruction of muscle tissue in arms and legs through penetrating wounds and blasts. These injuries are devastating, irreversible, result in long term disability, and lead to increased rates of delayed amputation. Lives Restored wants to curtail amputations and provide regrowth of muscle to provide function and control to limbs.
5 million Americans with skeletal muscle injuries undergo reconstructive surgeries each year
10% of wounded Military personnel and 50-70% of patients with traffic accidents require reconstructive surgeries to restore normal tissue configuration in the face and limbs
14,500 Service members were evacuated during 2001-2013 with a high incidence of volumetric muscle loss
Roughly 8% of all medically evacuated patients received a disability rating specifically for volumetric muscle loss injury
The estimated life-time disability cost per patient is $340,000-440,000 in addition to medical costs and lost wages
Solution:  This program addresses clinical needs through recent advances in regenerative medicine that have made new approaches possible. The Muscles Restored fund would specifically be used to repurpose products already commercially available or in clinical development for related indications, and conduct proof-of-concept studies in animal models and human clinical trials in patients with major injuries of muscle loss. This work can provide an aesthetic and functional solution to enable affected individuals to live a physically and psychologically healthy life.
The Ask:  Muscles Restored is a campaign to raise $500,000 to advance therapies that restore muscle defects and provide control, movement, and strength to arms, legs, hands, and feet.