MTEC MEMBER TEAMING INITIATIVES
This information is intended to emphasize the importance of teaming and describe the practices in place to assist such efforts through MTEC. 
The purpose of teaming is to expand knowledge and expertise. Many of MTEC's funding opportunities span a broad set of technical capabilities and expertise, for example, product development [e.g., dose, duration of treatment, pharmacokinetics (PK), and pharmacodynamics (PD)]; manufacturing (cGMP); preclinical studies that enable regulatory submissions; chemistry, manufacturing, and control (CMC); interactions with the U.S. Food and Drug Administration (FDA); and planning, management, and execution of clinical trials. Teaming is often essential to an organization's ability to respond to these complex funding opportunities.
Many of MTEC's member organizations are focused on a single technology which may have multiple uses but are based on a single core discovery or technology. As a result, many organizations decide not to submit a proposal because they cannot meet the total requirement of the Request for Project Proposals (RPP), or some organizations submit proposals that only partially address the technical requirements and hope they end up being complementary to another partial proposal. Neither approach is ideal and requires the military to make a hard decision about potentially incomplete solutions.
Recently, MTEC has had several requests from the Government Sponsor to form teams post-evaluation. These have been problematic as it now forces two or more organizations to agree on roles and responsibilities (and associated budgets) and form a cohesive work plan in a shortened timeframe.  Differing company philosophies, intellectual property rights and ownership provisions, and even leadership personalities sometimes lead to conflict and destroy the teaming effort. This is a pity for proposed technologies that are clearly complementary and would benefit the military as a single solution set.
Therefore, MTEC is encouraging organizations to team during the proposal preparation period (prior to proposal submission). We believe that this effort will result in three key advantages:
Offerors will submit more targeted proposals that better address the full scope of technical requirements of an RPP.
Offerors choose their own partners, rather than the Sponsor suggesting a teaming arrangement, so that appropriate teaming arrangements can be made that suit all parties involved.
Timelines to award will be faster because additional time during the process will not be required for several Offerors to work on and submit a new teamed proposal.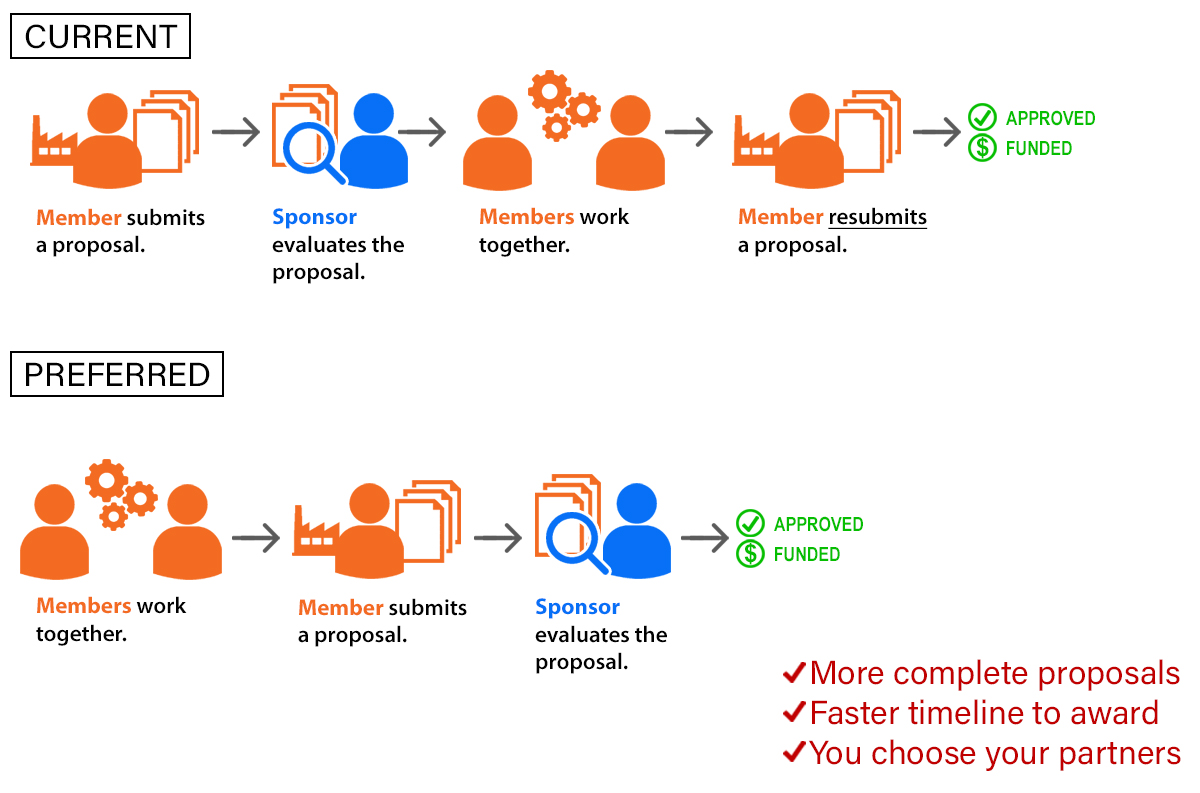 There are several MTEC mechanisms available to help MTEC member organizations' team. This document is intended to provide guidance on how to utilize the MTEC membership to facilitate teaming.
MTEC Members-Only Website
The MTEC members-only website [https://private.mtec-sc.org] is a repository of information only accessible to MTEC members. Be sure to provide MTEC with a listing of the appropriate representative(s) from your organization that should have access to the MTEC members-only website; keep the listing current; and notify your organization of your MTEC membership as there may be other departments at your organization that may benefit from MTEC funding opportunities.
Collaboration Database Tool
The purpose of the tool is to provide both the MTEC membership and Government Sponsors a quick and easy way to search the membership for specific technology capabilities, collaboration interest, core business areas/focus, R&D highlights/projects, and technical expertise. This tool will help the membership in identifying potential teaming partners and aid government sponsors in identifying members that have the capabilities needed for government projects. The Primary Point of Contact (POC) for each member organization is provided access to the collaboration database tool to make edits and populate their organization's profile. There are two sections as part of the profile relevant to teaming:
"Collaboration Interests" – Select the type of teaming opportunities your organization would be interested in. This information is crucial when organizations need to search the membership for specific capabilities/expertise that other members are willing to offer.
"Solicitation Collaboration Interests" – Input specific active solicitations that you are interested in teaming on. This information will help organizations interested in a specific funding opportunities identify others that are interested to partner in regards to the same funding opportunity. Contact information for each organization is provided as part of the member profile in the collaboration database tool to foster follow-up conversations between members as needed.
The Collaboration Database Tool can be accessed via the "MTEC Profiles Site" tab on the MTEC members-only website: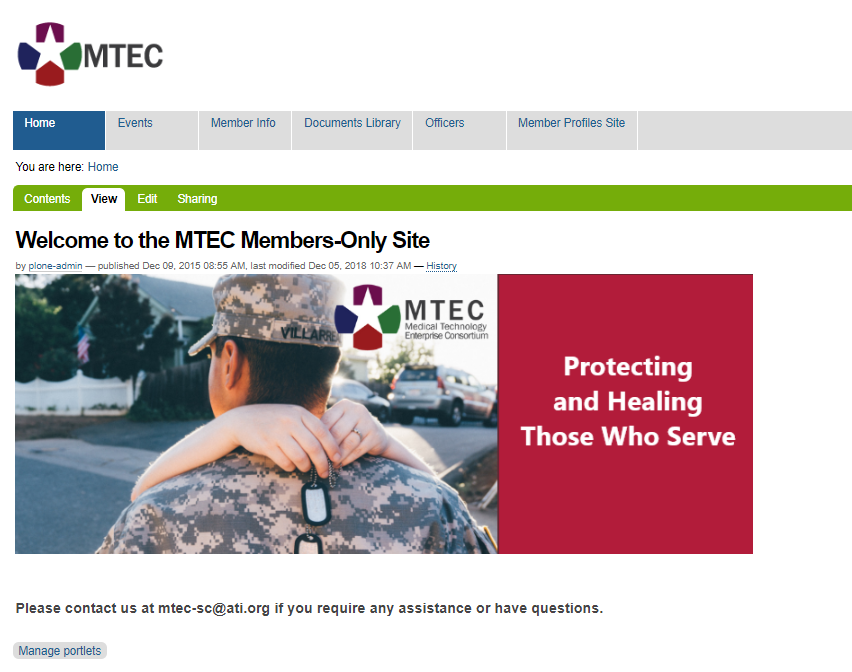 Step-by-step instructions on how to edit your information can be found here: How to Edit Your Member Profile. Member organizations are responsible for keeping their profiles updated on an ongoing basis and can make changes whenever necessary.
One-off Requests for Teaming
Points of Contact are always included in every RPP.  Please reach out to these points of contact during the proposal preparation period so that MTEC can propagate your company's capabilities to others interested in a particular solicitation.
Educational Webinars
MTEC is offering a series of educational webinars with topics including regulatory and commercialization strategies, financing, and working with the government.  Registered members will receive a full list of attendees. Attendance is optional and open to all MTEC members.  MTEC member organizations that offer expertise in the respective webinar topic may volunteer to present.  Discussions at the end of the webinars encourage members to get to know each other and potentially find teaming partners for subsequent RFPs.
As part of the educational webinar series, MTEC is offering MTEC Member Pitch Sessions for MTEC member organizations to pitch their capabilities and teaming interests to the MTEC membership.  The pitches are geared toward the MTEC member audience and the desire to team. You will be provided contact info for each company pitch so that you can directly follow-up with whomever you would like.
For the June 2020 MTEC Member Pitch Session (Virtual), the company pitches can be found here.
MTEC Partnering Newsletter
A special edition MTEC Newsletter is released on a quarterly basis to showcase MTEC Member organizations according to area of capability and expertise. The MTEC Partnering Newsletter requires MTEC member organizations to: 1) identify themselves to MTEC internal management, and 2) provide a short synopsis of their capability/expertise to be included in the newsletter. The MTEC Partnering Newsletter is sent to MTEC's member organization listserv and are archived on the MTEC members only website.
Partnering with U.S. Army Laboratories
MTEC members have the option to leverage Army Medical lab capabilities (a list including points of contact can be found within the teaming document on the MTEC members only website) and existing intellectual property [http://technologytransfer.amedd.army.mil].
Walter Reed Army Institute of Research (WRAIR, Forest Glen, MD)

Infectious Diseases: Parasitic, Bacterial, Viral
Vector Control
Traumatic Brain Injury Neurotrauma & Brain Dysfunction
Psychiatry & Clinical Psychology Disorders
Fatigue, Cognitive Health & Performance
Behavioral Health, Wellness, & Resilience
Blunt, Blast & Accelerative Injury
Human Performance Optimization/ Enhancement – Psychological

U.S. Army Medical Research Institute of Infectious Diseases (USAMRIID, Fort Detrick, MD)

Bacterial Diseases
Viral Diseases
Biological Toxins

U.S. Army Research Institute of Environmental Medicine (USARIEM, Natick, MA)

Musculoskeletal Injury
Performance Nutrition & Weight Balance
Human Performance Optimization/ Enhancement – Physiological

Telemedicine and Advanced Technology Research Center (TATRC, Fort Detrick, MD)

Telehealth
Health Information Technology
Medical Simulation & Training Systems
Medical Intelligent Systems

U.S. Army Institute of Surgical Research (USAISR, Fort Sam Houston, TX)

Hemorrhage, Shock, & Coagulopathy of Trauma
Pain
Pre-Hospital Tactical Combat Casualty Care
Critical Care Delivery
Prolonged Field Care
Medical Aspects of Directed Energy
Maxillofacial Trauma
Extremity Trauma
Ocular Trauma
Burn Injury

U.S. Army Medical Research Institute of Chemical Defense (USAMRICD, Aberdeen PG, MD)

Traditional & Emerging Chemical Threats
Biological Toxins

U.S. Army Aeromedical Research Laboratory (USAARL, Fort Rucker, AL)

Human Operator Health & Performance in Complex Systems
Blunt, Blast & Accelerative Injury
En Route Care Environment
Medical Aspects of Directed Energy
Human Performance Optimization/ Enhancement – Cognitive

U.S. Army Center for Environmental Health Research (USACEHR, Fort Detrick, MD)

Environmental Toxicant Exposure
Systems Biology

Additional Ways to Maximize Your MTEC Membership
There are a few other things you can do to maximize your MTEC membership:

Points of Contact: Although there is a single technical and business point of contact provided with your membership application, please be sure to add as many individual points of contact from your organization to our mailing list. This will ensure that the release of funding opportunities, newsletters, and special announcements are not overlooked by your organization. To add people to the MTEC mailing list, please visit mtec-sc.org , scroll all the way to the bottom of the page, and insert the respective email addresses into the input box.
Social Media: MTEC operates on several social media platforms and is willing to use them to propagate exciting member news. Contact MTEC (mtec-sc@ati.org) with exciting news relevant to your organization and the MTEC mission, for example, demonstration of proof of concept in animals or humans, initiation of a clinical trial, clearance of your product by the U.S. FDA, award for new funding from a non-MTEC source, etc. Click the below handles to get connect to MTEC's social media platforms.
     
MTEC events: Several events are organized by MTEC throughout the year to facilitate in-person interactions with MTEC management, other MTEC member organizations, and military Sponsors. Some examples of these events are the MTEC annual membership meeting held in the March or April (location varies from year to year but is within the U.S.), and the Military Health Systems Research Symposium (MHSRS) held in August (typically in Orlando). Stay tuned for special events announced via the MTEC mailing list.
Leadership Opportunities: MTEC encourages member organizations to nominate outstanding individuals to serve on the MTEC Board of Directors. In addition, please inquire within if you are interested in volunteering to serve on a Board Committee.
Philanthropy: MTEC is a 501(c)(3) non-profit organization, and hence, has recently launched a philanthropic arm to supplement the funding provided by the U.S. Department of Defense. Lives Restored shines a spotlight on the major injuries suffered by U.S. Warfighters, such as burns, loss of sight, head and brain trauma, muscle repair, and allows donors to apply their contribution to the area they choose. MTEC members can help propagate the message that MTEC is a philanthropic organization and accepts donations from individuals. To make a contribution to Lives Restored: https://mtec-sc.org/livesrestored/