National Emergency Telecritical Care Network (NETCCN) Project
This program is focused on preparation for COVID-19 related critical care capability shortages. Although the United States has more critical care beds per capita than other developed nations, emerging national and international experience with COVID-19-related critical illness suggests a high level of oncoming system stress on critical care resources and a likely potential for intensive care unit (ICU) beds and care teams to be overwhelmed.
Tele-critical care can be a powerful force-multiplier in the extension of limited critical care resources in both high-census urban centers and rural communities in which access to critical care (facilities, equipment and trained clinicians) is limited even under normal conditions. Many local and regional health systems have invested extensively in telemedicine capabilities, but many of these systems lack sufficient scalability, are limited both in interoperability with other telehealth systems and scope and reach of partner provider-networks and supported tele-clinical services. The vision for this program is to extend local tele-critical care capability sets to a broader, flexible network – first locally, then step-wise regionally and nationally – that can be leveraged wherever there is need.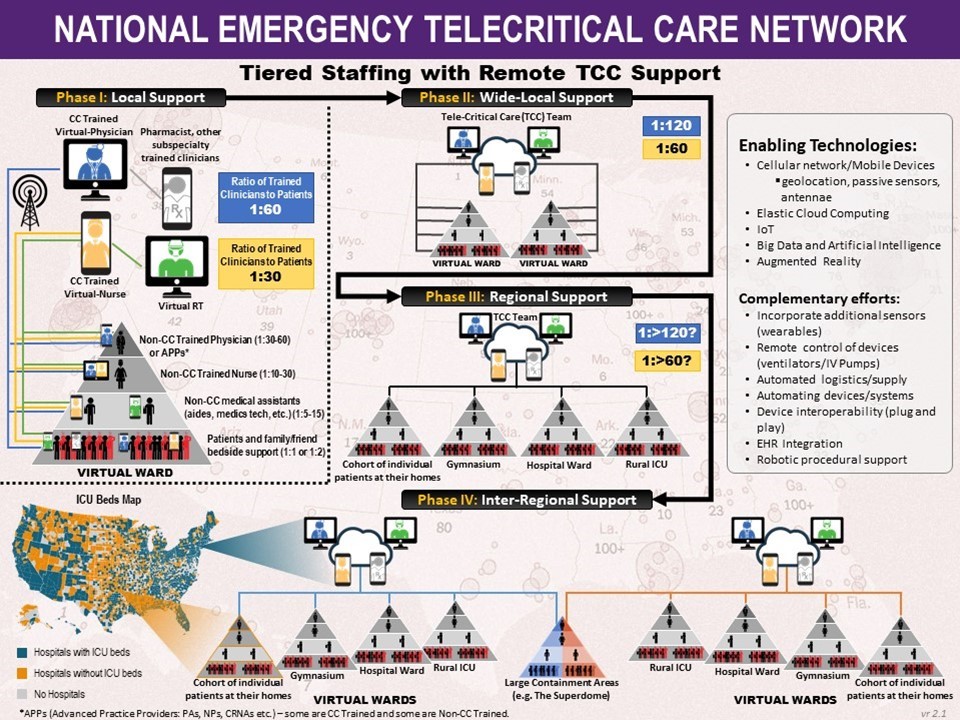 The NETCCN program focuses on enhanced development of integrated technologies and clinical workflows to establish and rapidly scale virtual wards. The program will support the extension of high-quality intensive care to traditional (e.g. critical access hospitals and clinics) and non-traditional and temporary healthcare facilities (e.g. field hospitals and gymnasiums) which lack adequate critical care expertise and resources necessary for care of COVID-19-related illnesses. This program utilizes existing technologies available for other use cases that can be rapidly adapted to establishing a National Emergency Tele Critical Care Network (NETCCN).
The tasks of the program include the following:
1) Initial system configuration and alpha testing
Awardees will bring forth systems which they have currently developed that would facilitate the capture, exchange and archiving of medical clinical information.
2) Rapid Development and beta testing
After initial alpha testing to validate system capabilities, the systems will move into the second phase of prototyping and testing. Additional minimum features include patient regulating and team coordination functions and database storage functions.  Field testing with local/small cohorts of actual users is expected.
3) Reliability Testing, Deployment and Enhancement
The systems will be fielded to actual users and experience real world use for a large cohort (at least a regional geographic area) of patients.  Simultaneously, new adaptations can be made to fit the specifics of the COVID-19 pandemic, so movement from generic data transmission to more specific formats and clinical practices that represent COVID-19 support.  A plan/program for "just-in-time" training for anticipated users (ideally a part of the application) should be included.
4) Automated Improvements
This task aims to incorporate automated improvements that can enhance the care as well as reduce time with consultation personnel so that they can extend their care to a larger patient population. 
5) Full Scale Development and Integration
This task expands the system to incorporate the greater network and systems of the DoD and civilian workplaces using a defined interoperability standard and reference data standards. The research project award recipients were selected from the Offerors who responded to MTEC's Request for Project Proposals (20-10-COVID-19_NETCCN_TATRC).