Here at MTEC, we appreciate the value of loving what you do, and we recognize how important it is to keep working toward our goals. Your passion for the MTEC mission was apparent throughout our fourth annual membership meeting, which took place at the Charleston Area Convention Center in North Charleston, South Carolina this March.
The MTEC meeting is an opportunity for the members to interact directly with the military/government and non-military funding sponsors who are affiliated with MTEC. Additionally, MTEC leadership described initiatives to increase the use of the MTEC vehicle, attract other funding sources, and facilitate collaboration between members and the military.
The membership meeting featured surprise welcome videos from US Senator Tim Scott, Medal of Honor recipient Major General James E. Livingston, USMC, (Ret), Lt. Clebe McClary, USMC, and his spouse, Deanna "Dea" McClary. Chaplain, Major General Charles C. Baldwin, U.S. Air Force (Ret) was in attendance to give encouraging words to the members to continue their work protecting and healing those who serve.
MTEC also recognized two outstanding project teams who received the first annual Prototype of the Year Awards at our 2019 Membership Meeting. The Prototype of the Year Awards were given to organizations that have displayed superb progress toward the advancement of prototype development related to MTEC project awards.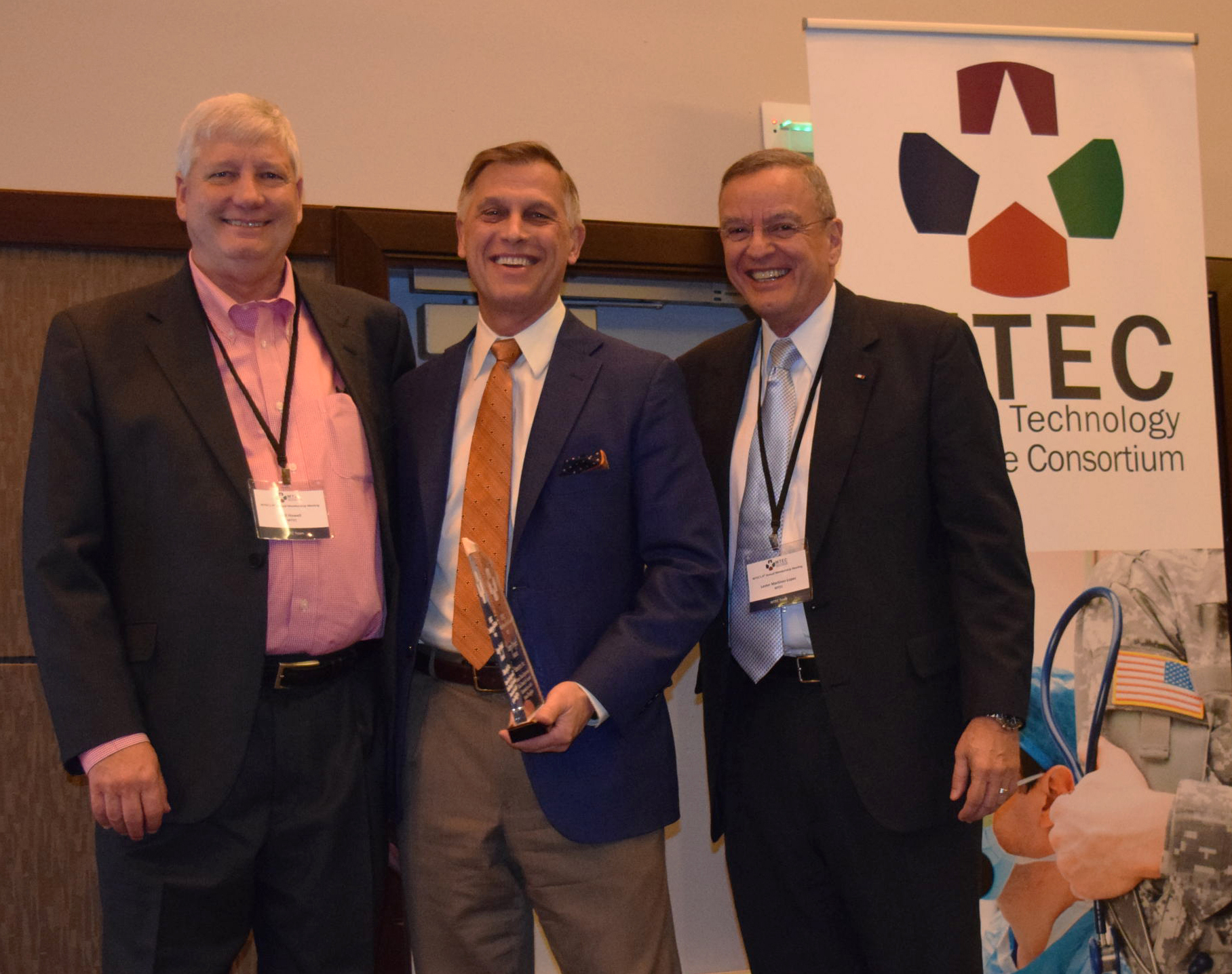 Humacyte, Inc. received the Prototype of the Year – Large Project Award for completing commercial-scale manufacturing, stability testing, and safety testing of a human acellular vessel (HAV). HAV is a novel regenerative medicine, human blood vessel product developed for the warfighter that, upon surgical implantation, can repopulate and remodel with the recipient's own cells to address serious, life-threatening combat injuries. The Humacyte team is in active interactions with the U.S. FDA and has already completed much work in support of Biologics License Application (BLA) submission.
Additionally, a project team from the University of Texas at Arlington and ReHeal, LLC was awarded the Prototype of the Year – Acceleration Award for their work to develop a process for manufacturing a novel wound therapy dressing for complex hand wounds. The University of Texas and ReHeal team completed critical work to enable low-volume production of the REHEAL dressing, and they will now move forward with testing this system in early feasibility studies and subsequent clinical trials.
The growth and improvement of MTEC were evident at this meeting, but everyone understood the importance of continuing to pursue MTEC's goal of providing all men and women in uniform the opportunity to fully recover from the life-threatening injuries they sustain while protecting our country.
We hope you will join us at next year's meeting, which is scheduled to be held at Houston Methodist in Houston, TX March 4-5, 2020.