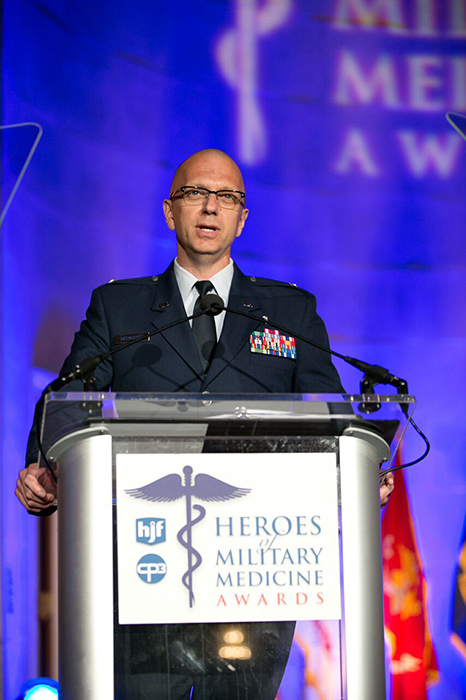 Todd E. Rasmussen, MD FACS, Colonel USAF MC
Shumacker Professor of Surgery
Associate Dean for Clinical Research
Edward Hebert School of Medicine – "America's Medical School"
Uniformed Services University of the Health Sciences
"Endeavoring to Stay Ahead of the Curve and Spur Innovation to Support Future and More Complex Operational Scenarios"
Earlier this year, the Medical Technology Enterprise Consortium had the opportunity to speak with Colonel Todd Rasmussen, MD, FACS, the then Director of Combat Casualty Care Research at the U.S. Army Medical Research and Materiel Command regarding the need for medical solutions and advancement in trauma research.
Unlike other areas of research and development, such as infectious disease, stroke, cardiology, and aging, Colonel Rasmussen states that the field of trauma has not had decades of sustained and large investment; significant advancements largely coincide with periods of wartime, in particular the War in Afghanistan, both World Wars, the Korean and Vietnam Wars, and Operation Enduring Freedom. The Combat Casualty Care Research Program (CCCRP) spearheads research and development in trauma care, leading initiatives in hemorrhage control, telemedicine, and a reduction of the medical logistics footprint.
The CCCRP is interested in solutions that prepare for a future in which advanced resuscitative care can be provided closer to the point of injury, and for possibly longer periods before the patient can reach a fixed facility.
In the wars in Afghanistan and Iraq, it was reported that 76% of combat-related deaths occurred before the warfighter entered the hospital. Routine protocol is to evacuate injured warfighters from the battlefield to the hospital to receive advanced care. The current challenge is to redefine what Colonel Rasmussen calls this "Golden Hour":  a shift of the capability focus to providing advanced care at the time of injury on the battlefield itself—a necessity for future military  scenarios that may require prolonged field care and long distance air-, land-, or sea-based medical evacuation.  According to Colonel Rasmussen, the program now aims to develop novel knowledge products, devices and technologies that focus on lifesaving and resuscitative measures that stabilize, correct and control the sequelae of injury regardless of location.
Colonel Rasmussen emphasized that the Medical Technology Enterprise Consortium's programs are driven by requirements, which is a great model for the development of new trauma breakthroughs and technologies.  In addition, the fields of trauma and injury offer a substantial opportunity to develop innovative approaches to saving lives on (and off) the battlefield.
Areas of interest to the CCCRP include:
Traumatic brain injury, particularly understanding the effects of closed or penetrating injury on the brain and how to manage the effects of traumatic brain injury
Burn injuries, such as treatment and management approaches
Large soft tissue wounds, in particular the prevention or management of sepsis
Limb savage and restoration of function after injury
Life savings technologies, such as the establishment of an open airway, resuscitative capabilities, soft tissue wound, sepsis control and hemorrhage control at the point of injury and in a hospital setting
Acute pain management
Hemorrhage control for all sites, including the extremities, neck and torso
Advanced resuscitative capabilities
Blood substitutes, such as new types of fluids that function in the same way as blood
Organ support and organ dysfunction after major injury
Organ support and replacement, such as technologies like dialysis that substitutes for renal function
Applied sciences, engineering, computer science, materials engineering approaches to trauma care, with a focus on the use of artificial intelligence, telemedicine and telecare
Colonel Rasmussen and the CCCRP encourage industry and research partnerships to focus on and provide innovative medical solutions throughout the different phases of care from Echelon 1 through Echelon 4. The ultimate goal is to equip Service members with better capabilities and tools that save more lives on the battlefield and redefine the "Golden Hour."
For more information about Colonel Rasmussen, the CCCRP and trauma research, check out:
During the time Col. Rasmussen served as the Deputy Commander of the US Army's Institute of Surgical Research, he led broader initiatives aimed at optimizing combat casualty care, including device innovation and development and technology transfer. His accompanying slideshow demonstrates how military surgery has developed over the years to include life-saving techniques for all citizens.
Combat Casualty Care Research drives innovation to improve survivability and reimagine future combat care.
2015
Significant advances have been made in combat casualty care as a result of more than a decade of conflict in Afghanistan. But as troops withdraw, where to from here for combat medicine, and can the advances made in recent years be sustained?
Summer 2014