Advanced prosthetics make Justin's life livable.
Staff Sergeant Justin Lansford of Silver Spring, Maryland was serving as a squad leader and machine gunner in the 82nd Airborne Division in Afghanistan. In early 2012 an improvised explosive device exploded under his truck.
"It flipped my truck completely. I had bilaterally severed femurs which resulted in the amputation of my left leg."
Despite his injuries, Justin continues to live a full and adventurous life that includes regular workouts, running, mountain climbing, and scuba diving. Justin pushes himself as he always has, so much so that he requires 16 different specialized prosthetics to conduct his normal activities.
"I need different legs for different purposes…a walking leg, a running leg, a scuba diving leg. That's what makes my life livable. I can wake in the morning and take a run, come home and walk my dog and if I'm somewhere with no shower seat I can take a shower and not worry about it. It lets me lead a normal life."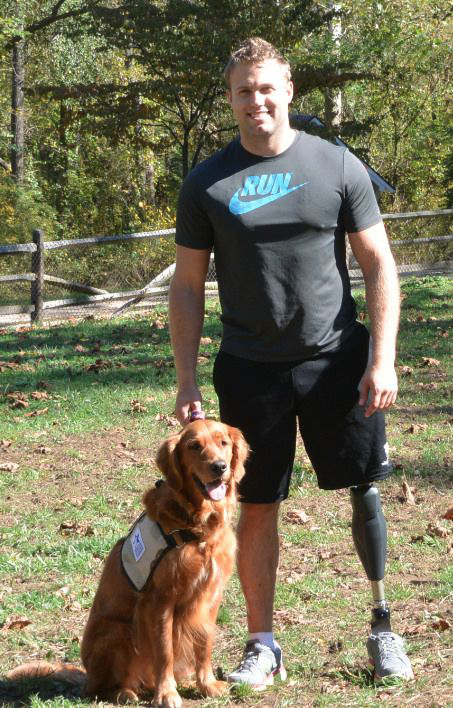 One of MTEC's research focuses is clinical and rehabilitative medicine, the technology area that will lead the development of new prosthetics prototypes for the approximately 1700 men and women who lost limbs in the last conflicts.
Justin gets tremendously excited by new breakthroughs in the field.
"Guys in my position, they get really, almost ridiculously excited when something new comes out. More than some people get when a new iPhone comes out! I remember when the X3 that was waterproof came out, that was just a huge, big deal."
Justin encourages researchers and technologists to keep striving to create new and better models.
"The biggest leap for researchers is to tap into the everyday struggles. I was able to walk in to my prosthetist and say, 'Hey, I'm going to CO. I'm going mountain climbing for five days. I need a long battery life. At the same time I need something that's durable and reliable and is not going to break during this trip, because if it breaks halfway down a mountain they're going to have to find a way to helicopter my ass out of there. And I'm going to need something that will allow me to walk very cautiously along short cliff faces."
Justin's insistence on maintaining an active lifestyle and always challenging himself shows that while researchers can surely help the men and women of our military, those men and women can also help researchers keep pushing technology forward.
"Something that's clear to most people: big changes in a lot of research and development runs through the military first, then trickles out to the civilian sector and makes a big impact worldwide. One of the coolest things I've experienced in the military health system is that I've been able to try out new technologies. You've got this expansive group of subjects …amputees, a ton of TBIs, a ton of orthotics – whether it's combat related or not. They're willing to try anything. They are very able bodied, very physically active, so it takes you beyond your traditional test group. An 85-year-old woman is not going to take your prosthetic up a mountain."
"It's really a huge opportunity to work with a military subject. A lot of them are young guys who are striving to be 100% of what they used to be. My running leg I'm on now wasn't in production when I tried it. It was a prototype sent to Walter Reed. Nobody had ever run on it before. I convinced them to let me take it and I loved it. They put it in a box, sent it to me, and I ran a 5K on it. Now it's in production and I snagged one. Military groups are used to taking chances. It's part of our culture."
No One is More Deserving.
The men and women of the U.S. military fought for our country. Many came to harm in the service of strangers. No one is more deserving of new technologies and devices that enable fuller, more active lives. Everyone who contributes to MTEC – whether they are program managers, technologists, engineers, medical researchers or the donors who support them – is fully devoted to serving people like Justin.
"I can't stress enough how important it is to strive to improve on medical technology to improve guys hurt in combat. They have a done a lot for us. It's important for us to get them back to 100 percent. If a soldier loses his eyes, we all lost his eyes. We did this together and I think we can heal together. It's a very important cause."
---
Justin Lansford is active with the Combat Wounded Veteran Challenge (CWVC), an MTEC member organization with the mission to improve the lives of our wounded or injured veterans by assisting them in realizing their newfound potential for the benefit of all. CWVC focuses their efforts on education, rehabilitation, research and innovations in field-based assessments/treatment of Orthotics & Prosthetics, Post-Traumatic Stress and Traumatic Brain Injury.