Be innovative. Be creative. Reinforce the good.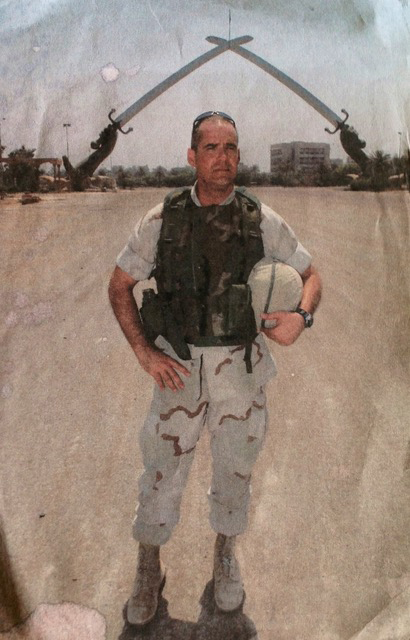 MAJ Peter Mitchell is a retired U.S. Marine currently working for United States Central Command. His entire career has been devoted to the service of our Nation. His distinguished military career began when he joined the Marines in 1984. While on active duty in June 2001, Pete began work at U.S. Central Command (CENTCOM). He was deployed throughout the Middle East in support of Operations Enduring Freedom and Iraqi Freedom. Pete retired from the Marines in July 2004, and went to work at the U.S. Embassy in Baghdad as a member of the Department of State. In October 2005, he returned to Tampa, Florida to resume work at CENTCOM.
Pete was on his way to CENTCOM early in the morning of December 13, 2012, when he suffered a serious motorcycle accident. He was in a coma for 16 days as the result of Traumatic Brain Injury (TBI) and hospitalized for more than six weeks.
Pete has always been strong. Soon after his injury, he felt that he would push himself to recover and return to work quickly. His doctors had to temper his expectations. The effects of TBI are not easily overcome, but Pete is determined to work hard toward a full recovery.
"People who have suffered traumatic injury – and I am one – there is a significant amount of grief and denial up front. And eventually, acceptance occurs. What you want is not just acceptance. You want acceptance and determination to improve."
By April of 2013, Pete was back at work. Veterans like him are not the type to give up easily.
"It's fun to be around combat veterans who have accepted their wounds and refuse to allow that to get them down or stop them. There isn't a better demographic in the world today to experience the innovation that you all are working on than the combat veterans."
He encourages researchers to work just as hard as he has, to always push new treatments and technologies forward.
"When we talk about rehabilitation – be innovative, be creative. Reinforce the good."
Pete explains why this research matters and why active service members and veterans are especially worthy of help.
"Donors, philanthropists see transformations taking place in people's lives. People with artificial limbs don't see themselves as disadvantaged. They are extraordinary. Not only do they not let their service disability get them down, they're using it as an advantage."
The brain is an organ. It can heal.
The treatment of Traumatic Brain Injuries is one of the major challenges facing our warfighters and veterans. It is also one of the technology objective areas MTEC is focused on. Pete is hopeful that research will continue to create new and better ways to help people with TBI.
"The brain is a human organ like all others…a delicate, intricate, very complicated piece of machinery, if you will. There is a human element to it, but it is an organ. It can heal."
We take inspiration from Pete's steadfast determination. His perseverance reflects the U.S. military culture he loves.
"We're all trained that in combat we're going to take care of one another. We're not going to leave the wounded on the battlefield. We're going to sacrifice for one another."
MTEC donors and researchers share this commitment to others. We understand exactly where Pete is coming from when he says,
"This is exactly the kind of thing a donor would like to look at and say, 'Hey, look at this. Look at this guy. This guy lost two legs in combat. Look at him now. He's running. He's running and look how happy he is.' It's just wonderful to know of that kind of progress."
---
Pete Mitchell is active with the Combat Wounded Veteran Challenge (CWVC), an MTEC member organization with the mission to improve the lives of our wounded or injured veterans by assisting them in realizing their newfound potential for the benefit of all. CWVC focuses their efforts on education, rehabilitation, research and innovations in field-based assessments/treatment of Orthotics & Prosthetics, Post-Traumatic Stress and Traumatic Brain Injury.